If you have been looking at Pueblo homes for sale online for very long you no doubt have come across Zillow.com Zestimate®,  pronounced (ZEST-ti-met).
The Zestimate® home valuation is Zillow's estimated market value, computed using a proprietary formula. It is not an appraisal. It is a starting point in determining a home's value. The Zestimate is calculated from public and user-submitted data, taking into account special features, location, and market conditions. We encourage buyers, sellers, and homeowners to supplement Zillow's information by doing other research such as:

Getting a comparative market analysis (CMA) from a real estate agent
Getting an appraisal from a professional appraiser
Visiting the house (whenever possible)
So before you go pricing your home based on Zillow's Zestimate, or even using that figure to put in an offer on a home you would like to buy, there are a few things to consider. I'll try and unpack that question with the following illustration and then give you the numbers behind the math.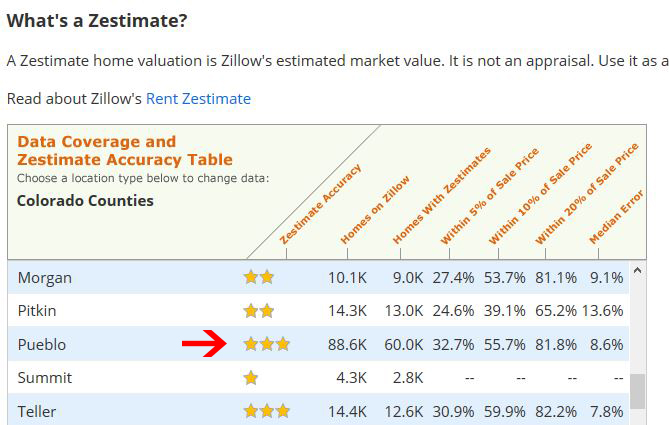 How accurate are Zestimate numbers
Zillow is tracking almost 89,000 properties in Pueblo County, with some 60,000 properties displaying a Zestimate.
Zillow is correct 32.7% of the time and is within 5% of the actual selling price.
Zillow is correct 55.7% of the time and is within 10% of the actual selling price.
Zillow is correct 81.8% of the time and is within 20% of the actual selling price.
Zillow says there are within 8.6% of the selling price overall.
What the Zestimate numbers mean to Pueblo Home Sellers and Buyers
The average home price in Pueblo County is just under $160,000. If we unpack the numbers and use some basic logic behind those numbers you have quite a potential swing in the market value of a home. This means a home could be accurately priced somewhere between $146,240 on the low end (an 8.6% difference) and $173,760 on the high end (an 8.6% difference), and that's an 81.6% accurate guess.
That's how the math behind the numbers work out and is not an indication of the true market value of a home.
If you are considering selling your home, or purchasing a home in Pueblo County, give me Rick Thomas a call and I would be more than happy to discuss your needs and goals, and help you determine the best pricing points to sell your home fast, and for top dollar.
By the way, if you're wondering why Summit county doesn't have any figures, it's because the agents in that part of the state do not share that data with Zillow.